QUTIF International Conference 2017 in Bad Honnef
The QUTIF International Conference 2017 brings together experts from countries worldwide working on
atomic, molecular and optical science with strong ultrashort pulses
chemical control with tailored fields
strong-field dynamics in new media.
The conference serves also as a platform for presenting the work of the DFG QUTIF Programme to an international audience and for international scientific exchange.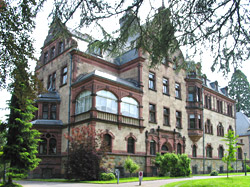 Dates & Schedule
--> Registration closed <--
Probable schedule:
Arrival: Sunday afternoon (3 Sep 2017)
Start of scientific programme: Monday 8 am
Departure: Thursday (7 Sep 2017) after lunch
Venue
The Physikzentrum Bad Honnef has a long tradition of hosting workshops and conferences in Germany. It is located near Bonn and it is just a five-minute walk from the Rhine River. The Physikzentrum is a historic building with a brand-new guesthouse next to it. Meals and accommodation will be on site if space so permits.
Confirmed invited speakers
Marc Vrakking (MBI Berlin)
Mette Gaarde (Louisiana State University)
Pascal Salières (CEA Saclay)
Johan Mauritsson (Lund University)
Toru Morishita (University of Electro-Communications Tokyo)
Péter Dombi (Wigner Research Centre for Physics Budapest)
André Bandrauk (Université de Sherbrooke)
Alfred Leitenstorfer (University of Konstanz)
Lukas Gallmann (ETH Zürich)
Oren Cohen (Technion, Haifa)
Jian Wu (East China Normal University Shanghai)
Eleftherios Goulielmakis (MPQ Garching)
Program (click on schedule for full program)